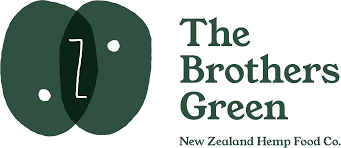 This new organic product, from 'The Brothers Green', is our cold-pressed, hemp protein, grown and processed in Canterbury, New Zealand.
It is specifically designed with gut health in mind, meaning that it strengthens and restores your gut. Additionally benefits are that it is dairy-free, sugar free and an amazing way to add good protein to your diet without upsetting your digestive system.
The Brothers Green hemp protein powder is a very popular addition to protein shakes, smoothies, or used in brownies, health bars, pancakes, acacia bowls and much more.
Our Gut Health Protein Powder can be purchased in a 300g bag :
https://thebrothersgreen.co/products/organic-gut-health-protein-powder
Or the larger 1kg bag :
https://thebrothersgreen.co/products/nz-hemp-protein-powder
As well as being easily absorbed by the human body when compared against other protein sources, hemp protein is also very high in protein, fibre and contains all nine essential amino acid. It also possesses many important vitamins and minerals necessary for maintaining optimum health, such as iron, magnesium, zinc, calcium, potassium and Vitamins B and D3.
One 30gram serving of hemp protein powder can supply 30% of your recommended daily fibre intake, which is a good yardstick for maintaining good gut health.
Our organic products contain no gluten, sugar, dairy, lactose, nuts or soy. Each serving contains 43% protein, 24% fibre, 8.7% polyunsaturated fats, and a perfect 3:1 ratio of Omega 6 to Omega 3.
This makes our Hemp Protein Powder perfect for :
• Gut Health
• Muscle Building
• Muscle Recovery
• Energy
• Brain Function
• Overall Great Health, from receiving the complete amino acid profile + all nine essential amino acids.
We encourage you to try this exciting addition to our product line.
For more information please refer to our website at : https://thebrothersgreen.co/